MeMD was recently featured in Counselor Magazine as a "trend to Watch"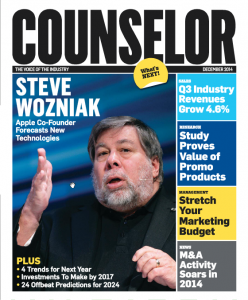 Read an excerpt from the article below...
By Betsy Cummings
Want to know the industry's hottest business trends for 2015? They may surprise you. Get ready for crowd-funding projects and dialing up doctors. Here, we highlight some of the biggest challenges distributors are facing and the solutions they're dreaming up to remain top players within the marketplace.
Curing Health-Care Ills
"Outside of payroll, health care is the highest expense I have as a business owner," says Dan Crandall, owner of Fine Print Commercial Printers Inc. (asi/194109), based in Meadville, PA. The Affordable Care Act (ACA) has been promising relief for Crandall and others struggling to foot their firm's health-care bill. But "the jury is still very much out on whether anything in the legislation has had a positive effect on the downward pressure on pricing," says Jim O'Connor, president of CBIZ, a business services firm in Manasquan, NJ. Starting this January, the government's Small Business Health Options Program (SHOP), which helps companies with 50 or fewer employees shop for coverage, says shopping and comparing plans will be easier for businesses and their employees. Essentially, SHOP takes the idea of insurance exchanges, in which consumers can shop for various insurance options in one place, to the business-to-business market, says Mark Greutman, a financial expert and blogger based in Syracuse, NY. But O'Connor and others insist that even after the ACA launch, SHOP and the benefit of health-care exchanges, the only way to reduce company health-care expenses is to raise co-pays and deductibles and ask employees to carry a larger share of health-care costs. Not that it helps, says Crandall, who adds that his insurance renewal rates have climbed as much as 40% year over year, an increase that seems unconscionable when compared to other markets. "If I went to the grocery store and bread or milk went up 40% I'd be flipping out," Crandall says. Those kinds of price increases have sent small-business owners scrambling for other strategies to reduce health-care costs, often with little success. One option, says O'Connor, is for executives to lean on services such as medical hotlines where, for a nominal fee, doctors and nurses are available 24/7 to diagnose employee ailments and prescribe medicines so that staffers don't have to waste time and money in urgent care or a doctor's office. One service, MeMD, charges businesses less than $35 per month per employee to provide around-the-clock access to medical professionals, says John Shufeldt, founder and CEO of Scottsdale-based MeMD. The company, he says, has been growing more than 300% a year since it was founded in 2010. The idea is one that many companies are embracing – save money on health-care expenses and lost productivity by having employee medical concerns answered in the office. That can save employers as much as $700 per emergency room visit or 90 minutes lost in a doctor's office, Shufeldt says. ... Read in Full: 4 Trends Sure To Impact Your Business Next Year